Excited to share my love of the coast
I've always believed in the saying that "your days on the water are not subtracted from your days on earth," or at least that's my excuse. Regardless, I won't apologize for being a little late for something if the fish are biting, a little smelly after traipsing in pluff mud, a little emotional when the moon illuminates the water, and a little excited when the net draws closed. I can't help it. 
Interview with John Milton Pruitt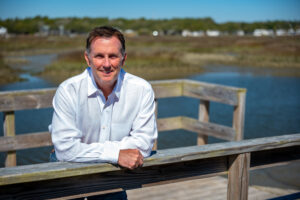 I was born on the Eastern Shore of Maryland in the small town of Berlin. Wedged between the marshy banks of the Chesapeake and sandy edge of the Atlantic, it was the perfect place to grow up. I was a reasonably good athlete, playing baseball and tennis at Stephen Decatur High School. Never the All Star that I had hoped to be, but maybe that was a silver lining, leaving me more time for mornings in a duck blind on Croppers Island and afternoon surf fishing on the beaches of Assateague. It's funny: I can't remember much about the ball games or tennis matches now but can still hear the slap of duck decoys on the water as Dad and Uncle Dale tossed out the spread. Or the look on my sister's face when she had a big jimmy crab on the line. The smell of an outboard motor exhaust mixed with salt air and the taste of a freshly shucked oyster. I graduated from Randolph Macon University in 1985 with a BA in Economics and Business and immediately dove head first into a banking career. Starting with a small savings & loan in Baltimore, I eventually worked my way up the ladder until eventually moving to Atlanta and managing one of the largest residential finance departments in the Southeast. I have been very fortunate. Thirty-five years in banking has opened doors, paid the bills and allowed me to rub elbows with some very impressive people. Government legislators, board chairs, millionaire entrepreneurs—all with imposing resumes. What I've learned in my life, however—at least the important things—came from less conspicuous heroes. The quiet leadership of Morris Lee Jones, my Little League Baseball coach, who never once raised his voice regardless of my antics. The unyielding examples of character by Dick Thompson and Jim Bergey, whose apples didn't fall far from the tree. Reverend McCready, who practiced what he preached. A father who taught me that accomplishment was worthless without integrity. A mother's constant reminder that family always, always comes first. I can't help but wonder if the amazing counselors in my life were as much a product of a place. That who I am is where I came from. What I know for sure is that the more complicated life gets, the more I need to be here.